Bathroom Installation
Quick Flow Plumbing and Heating is happy to provide a superior bathroom installation service to its valued residential customers. So, if you've been considering a bathroom upgrade for your property, make sure to contact our team today, and we'll be happy to talk you through your various options.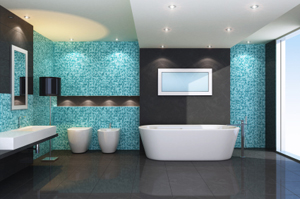 Our approach
We have a team of seasoned professionals who can install a range of stunning bathrooms, no matter what your preference.
It's always our mission to accommodate our customers' wishes to the letter. We understand that before you've even picked up the telephone, you may already have a clear idea about what your dream bathroom will look like. That's why our dedicated team will collaborate with you to produce a bathroom that meets your needs perfectly. And for those that aren't too sure about what they want, our team is perfectly suited to offer advice.
Our pricing
After you contact us, we'll carry out a comprehensive initial assessment. Our engineers will then provide you with a fixed quote for all the work, which includes both labour and materials. With Quick Flow, you'll never have to worry about any hidden extras, as we offer an upfront price from the start.
The benefits of our bathroom installation service:
For homeowners
Enjoy improved home aesthetics
Improve your home's overall efficiency
Increase the value of your property
Impress your friends and family
For landlords
Garner higher rental figures
Keep your tenants happy
Ensure your property is well maintained
Get in touch
To take advantage of Quick Flow's quality bathroom installation service, contact our team today via telephone on 0800 6121 167, or by filling in a few of your contact details, here. We'll be happy to provide you with a free, no-obligation quote.